With 2012 drawing to a close, MAG Ireland would like to take this opportunity to thank you, our members, for your dedication to defending our rights as riders.
2012 has been a crucial year for MAG Ireland during which we further built on the changes we made throughout the past two years. There were significant changes to the structure and operation of MAG, a substantial cut in membership fees, and a re-brand as MAG Ireland adapts to the changes and challenges ahead.


So as we face into 2013 to meet those challenges and the growing demand for an effective representative body for riders, it's worth a look back at what has been going on over the past twelve months as seen through the eyes of your representative organisation. (Links to relevant posts are in italics)
January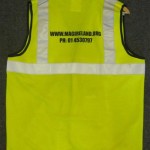 We opened the year with news that French riders were to be subject to mandatory retro reflective clothing on all bikes over 125cc, while the NCT for bikes issue hit the headlines with the news that EU Commissioner for Transport Siim Kallas acknowledged the receipt of over 110,000 signatures against periodic technical inspections. The petition had no impact on Mr. Kallas as we would later discover. We rounded off the month with our "How many motorcycles do you own?" poll to which over 650 of you responded and we utilised the results as part of our insurance campaign.
February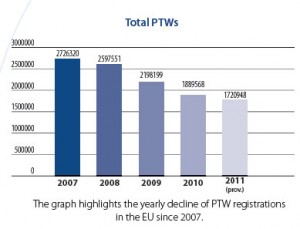 February kicked off with ACEM reporting dramatic falls in motorcycle sales across the EU while yet further bad news came our way via a statement from Harley Davidson Club of Ireland (HDCI) regarding the cancellation of the 2013 Super Rally which was to take place in Waterford City on 16th May 2013 due to cost and policing issues despite the fact that the 5 day event would have brought very significant tourism revenue. Elsewhere, the most contentious issue of 2011 rumbled on with news that the supplementary Impact Assessment of the type approval proposals had been published.
March

MAG Ireland poll: 95% want bikes in bus lanes was our headline after more than 500 of you responded to our poll on the issue launched just a month after we reported that Belfast bikers got increased bus lane access. We asked the obvious question "If it's better for all road users in Belfast and London that motorcyclists have legal access to bus lanes, why is it that the Irish transport authorities can't see the benefits?" The answer, it seems, is that the authorities here refuse to see the benefits.
Elsewhere the Type Approval issue hit the headlines again with a rumor of a ban on choppers due to a "steerability test" fueled by misinformation touted mostly on facebook. MAG Ireland looked into the issue in conjunction with FEMA and as our subsequent headline put it: Type Approval: No ban on Choppers. In France, the FFMC (the French equivalent of MAG) staged a series of massive demos across the country in protest against domestic proposals including the mandatory retro reflective material proposal we reported on in January.
April
April opened with news of Bikefest in Killarney, and we reported that EU Transport Commissioner Siim Kallas re-stated the Commission's goal to target "the problem of motorcycles" just as the Type Approval discussions were about to enter a crucial phase. What we didn't know at the time was that this announcement was a pretext for the Commission's proposal to force a stringent and potentially very expensive NCT style test on almost all vehicles, including motorcycles. Elsewhere we reported on Intelligent Transport Systems, while Northern Ireland's Right to Ride published an in depth study of 39 fatal motorcycle collisions in Northern Ireland.
April 21st saw a MAG Ireland delegation undertake the first of a number of meet & greet events with a stand at the Waterford Harley Davidson open day, and a town hall meeting with the Celtic Thunder H.O.G. chapter. The feedback from this and other meetings subsequently resulted in changes to MAG Ireland which were voted through at the A.G.M. later in the year. We closed out the month by reporting that Icelandic riders won the right to choice on protective clothing. In the piece,  we spoke to Njáll Gunnlaugsson of BLS Iceland about the campaign mounted by riders in his country and what lessons could be learned from the situation there.
 May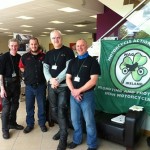 May brought news of MAG UK's follow-up demo on Type Approval scheduled for 24th June amid what was a very fluid situation surrounding the Type Approval process itself. Meanwhile, the RSA reported that 43% of learner drivers were driving unaccompanied on Irish roads.
May 12th saw us host the second of our "meet and greet" events, this time at Lee Motorcycles in Cork. As with Waterford previously the feedback we received from members and non members alike helped to change MAG Ireland for the better. Elsewhere, toll operator Easytrip asked riders not to use the express toll lanes for their own safety.
June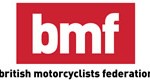 The Type Approval issue continued to develop rapidly and we opened with a piece from the BMF called "Type Approval and You" – A BMF briefing which clarified many issues, while Northern Ireland's Right to Ride published another update in which they noted that all parties involved were "…working towards a solution that will be acceptable even for the most sceptical." Type Approval continued to dominate the MAG Ireland timetable, and amid a complex and rapidly changing situation we published our own Type Approval update from MAG Ireland to summarise the position for Irish riders. June however proved to be a very busy month with MAG Ireland publishing our response to the penalty points review which had suggested double points for speeding offences where these were committed on a motorcycle.
July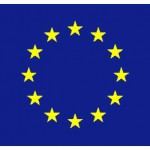 Events posts topped the chart for July, but campaign issues were never very far from the surface. In Northern Ireland – More Bikes in Bus Lanes we reported that Regional Development Minister Danny Kennedy announced the opening of two new bus lanes in Belfast city centre both of which were to allow access for motorcycles. The new licensing regulations came up with The Road Safety Authority issuing a new guidance document explaining the effect of the Third Driving License Directive, a topic on which MAG Ireland had been engaged in discussion with the RSA over some time.
Elsewhere, reports of riders being denied petrol saw us seek clarification on forecourt rules while in Brussels, the EU Commission blindsided everyone by publishing a proposal for a regulation on roadworthiness testing which contained some very questionable data. MAG Ireland immediately summarised the proposals and began to research the underlying data.
August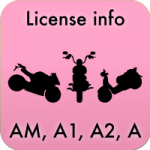 With the events season in full swing and the Summer sunshine, such as it was, making a brief appearance, we took the opportunity to look at the new A2 license category while planning got underway for a Euro Demo on the EU Commission proposals on Roadworthiness Testing.
Here at home we followed up a complaint about dangerous road works in Dundalk which saw us compile a report for submission to the relevant authorities and we took time to reflect on the causes of the petrol price increases as petrol broke through the €1.70 per litre mark to record historic highs.
September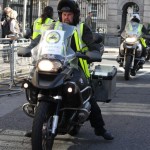 MAG Ireland announced the "No Con Test" Demo for September 22nd as part of a wave of demonstrations across the EU timed to co-incide with a protest run to Brussels in opposition to the EU Commission's disproportionate proposals on roadworthiness testing. As with all demo's, this one took a substantial amount of time and effort to plan and organise.
Nevertheless we reported that the French "7 year" ban was scrapped while FFMC "egged" DEKRA headquarters in Paris ahead of the Euro Demo. On the day itself the MAG Ireland "No Con Test" Demo saw hundreds of bikers take to the streets to express their anger and disgust at the Commission proposals.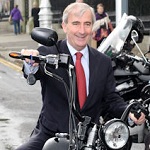 Photographer Antoinette Keane was on hand to capture the highlights, with Ride Ireland compiling a video report. In the wake of the demo, West Cork Fine Gael TD Noel Harrington came out in support of MAG Ireland by calling for a cut in VAT on PPE while a MAG Ireland delegation met with Gay Mitchell MEP to brief him personally on the Commission proposals. MAG Ireland also engaged with other interested parties including the Irish Farmers Association and the road hauliers as opposition to the proposals grew.
October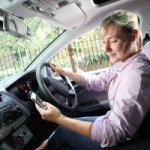 October got underway with us reporting that Guidelines for motorcyclist-friendly guardrails were published as part of a new initiative by F.E.M.A. to promote motorcyclist friendly crash barriers as well as the public launch of the FEMA-led Riderscan project. Also at the EU level, we reported on the agreement of a final text on Type Approval which brought to a close more than two years of campaigning on what was a difficult, complex and frequently misunderstood issue.
As one issue drew to a close however, the Commission continued to fan the flames of protest by refusing to budge on it's proposals for roadworthiness testing with countries including France, Sweden and The Netherlands coming out against it. They would later be joined by many others including the UK. Here at home, Cartell.ie reported a collapse in motorcycle sales, while we also took a look at the use of mobile phones while driving examining a report by by Claire Evans, Deputy Motoring Editor for the UK non-profit consumer group Which?.
November


We took a look at the First Bike on Scene course run by BIKERS Training, and we reported on the changes to the SHARP scheme for helmet safety ratings. In Brussels,the final text of the Type Approval regulation was voted through, and MAG Ireland continued to work on the Roadworthiness Testing issue with Gay Mitchell MEP speaking out on NCT Style testing for motorcycles in the EU Parliament. Good news came our way from France where riders learned the proposals for mandatory retro reflective material were to be dropped.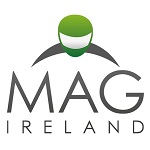 November though was possibly the most important month in the history of MAG Ireland with our Annual General Meeting voting through some major changes to your organisation including a re-brand, a substantial cut in membership fees (dropping from €40 to €25), and a number of new initiatives including a club membership scheme and a new voucher based discount scheme.
There were also significant changes to the way MAG Ireland is run with all positions now directly elected at AGM. In addition, a number of new faces were voted onto the MAG Ireland board. On top of all that, there are further exciting developments in the pipeline which we've been working on but which are not ready for launch just yet.
December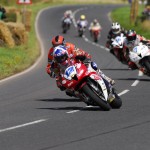 December's budget saw a modest increase in motorcycle road tax, but more disappointingly, there was still no reduction in VAT on PPE and MAG Ireland will continue to chip away at that issue. In Brussels, Roadworthiness Testing proved a divisive issue with the European Council throwing out large parts of the proposals, while the European Parliament debate on the issue was framed in the context of "safety" despite the Commission failing to provide any substantive evidence in that regard. Ending the year on a lighter note, freelance journalist and road tester Aidan Lynam wrote a popular piece for the MAG Ireland web site called Road racing, an Irish phenomenon which included some superb road race photography.
Looking forward to 2013
2013 will, without a doubt, be a pivotal year for MAG Ireland.
Like all riders organisations across Europe, we're faced with declining membership in the face of increased challenges. We've done a huge amount of work over the past two years to overhaul MAG Ireland and make the organisation more relevant, efficient and effective.
Beginning in 2010 with a root and branch review, we relaunched the MAG Ireland web site. Then throughout 2011 we worked to cut costs and boost productivity. We moved the office and overhauled the IT systems. In 2012, we continued to develop and build on those changes to put the organisation on a sustainable footing for the future by completely overhauling the way MAG Ireland is run and slashing the cost of membership. We've grown the MAG executive to a dozen active volunteers. We've taken the MAG Ireland proposition out to the dealers, to the rallies, to the events, and to the streets.


MAG Ireland exists to promote and protect motorcycling in Ireland. Regardless of what you ride, it's in your interests to join and support us as we evolve to meet the challenges coming at us. Last year the hot issue was Type Approval, and in the end we got most of what we wanted after a long and difficult process. This year the hot topic is Roadworthiness Testing, and we're making good progress there so far.
MAG Ireland is a democratic organisation run by riders for riders. All volunteers who serve on the MAG Ireland executive are directly elected at the AGM where all MAG Ireland members have a vote.
We can't do what we do without the support of members. The more members we have, the stronger our voice, and the stronger yours. MAG Ireland is changing, and we want you to be a part of it. It now costs less than 7 cents a day to make a difference. Join us and help us to meet the challenges ahead. Together, we're stronger.
---
Not a MAG Ireland member? Why not show your support?
Become a MAG Ireland Member – Donate to MAG Ireland
---