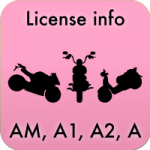 MAG Ireland has added a new page to our site – A2 License Facts – to give young or novice riders a better idea of what bikes they can ride on a restricted license once the new regulations come in.
We realise there are still some unanswered questions, particularly amongst people who may have obtained a permit under the old system or are currently riding on a restricted A license, and we're awaiting definitive answers from the RSA on these. The situation is at it's most awkward right now as we're effectively working between two distinctly different systems.
In the meantime, we've tried to bring some clarity to the situation by compiling a list of bikes that are A2 suitable, including some full power bikes which are restrictable to A2 regulations (35kW and not derived from a bike which makes more than double that figure).
You'll find the new page here: https://www.magireland.org/a2-license-facts/