Back in July MAG Ireland received a complaint from a Dundalk rider who reported that the council had not only installed some very steep speed ramps, but had also bolted some plastic ramping to the road as a lane divider. On a bend.
Not surprisingly, we felt this needed further investigation, so we dispatched our resident long haul commuter and North East rep to check it out, armed with nothing more than a camera phone and a dog eared honda.
If you're a resident of Dundalk, or familiar with the town you'll no doubt be aware that there are major changes underway to install a cycling network in and around the town center and further afield.
Our rep spent a sunny Sunday morning examining the works and chatting to local taxi drivers about the situation. There were indeed a lot of speed ramps, or asphalt cushions to use the official parlance.
This is the sort of thing he found in and around the main square, and it's fairly typical of the ramps used as a traffic calming measure in heavily pedestrianised urban areas.
However, it appears the council have indeed gone a step further than might be considered sensible when they bolted this black and yellow ramping to the lane divider on the junction between Clanbrassil St. and Crowe St. (Click on photos for larger version).

Our not-so-secret investigator reports that the works are unfinished, and his rummaging through the local media reports reveals that there are ongoing disputes around them. While MAG Ireland doesn't take sides in cases like this, we felt that on balance the dividers posed an unnecessary hazard to riders, so we compiled a report and sent it into the council outlining our concerns.
The council's engineer has acknowledged our communications, and has forwarded our report to the relevant bodies for consideration. We await further responses from these bodies.

In the meantime, if you do happen to be in Dundalk, be aware that there are major changes underway to some junctions, especially in the town center. Some of the speed ramps, especially in the Muirhevnamor locality, are indeed very steep, and not the sort of thing you'd want to encounter even at the 50kph speed limit.
---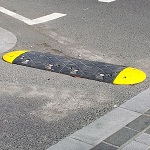 Does your town have lane dividers like these?

If so, e-mail photos to office@magireland.org with the location.