Update, 22nd September 2012:
A huge thank you to everyone who turned out on the No Con Test Demo today.
There will be a Demo Report post early next week, so keep an eye out for that.
Some photos with thanks to Keith Drummond: [Click Here]
In the meantime, we have put together a letter to the EU Commission which you can download, edit and send. Simply fill in your own details where appropriate and post it to the EU Commission.
Download in Word Doc (.doc) format – here
Download in Rich Text (.rtf) format – here
Download in OpenDocument (.odt) format – here

Thanks & ride safe!
MAG Ireland
Irish Bikers will take to the streets to protest new EU regulations.
Irish riders will take to the streets in opposition to an EU proposal which seeks to extend roadworthiness testing to motorcycles, based on flawed figures presented by the EU Commission.
The EU Commission proposals (which also include caravans, trailers, and so called "fast tractors") will inevitably mean substantial hikes in the cost of an NCT Test for motorists, given the huge costs involved in procuring equipment and training operatives to handle motorcycles compared to the relatively small number of motorcycles on Irish roads. In fact the RSA claims that motorcycles account for about 2% of all road traffic in Ireland.
Worse still, the EU Commission claims 8% of motorcycle accidents have technical failure of the motorcycle as a contributory factor, when the true figure as revealed by the MAIDS Study is just 1.6%. The EU Commission is therefore trying to solve a problem which doesn't actually exist and even it did, would affect only a very tiny fraction of the total number of vehicles on Irish roads. Even the RSA agrees that technical problems on motorcycles are not a road safety issue.
That's not the only problem with these proposals however. They completely fail to take into account that as many as three out of four riders own more than one motorcycle, a fact backed up by MAG Ireland's own survey earlier this year, and a fact which would make it prohibitively expensive for Irish riders.
The proposals are being pushed forward despite a petition against the inclusion of motorcycles in periodic technical inspection programmes which gained over 110,000 signatures  from riders across the EU (including Irish riders), and which was delivered to Brussels on 15th October 2011 by FEMA.
Enough!
MAG Ireland is organising the "No Con Test" Demo Ride in Dublin on September 22nd, and we need your support. Assembly point is Wilton Terrace, Dublin 2 from 11:30 am, with the demo ride getting underway at 1pm sharp. There will be feeder rides coming in from the West (BikeWorld/Long Mile Road) & South (Cornelscourt Shopping Centre), see map panel below.
Poster – Click Here to download PDF Version
MAG Ireland's "No Con Test" demonstration is timed to coincide with a series of demos in other EU countries, including a mass rally in Brussels which will see tens of thousands of riders converge on the European Parliament to demonstrate their anger at the EU Commission's complete lack of proportionality.
"If it truly improved rider safety – all would support it. It doesn't!"
(Marc O'Loideoin, Chairman MAG Ireland)
Meet up Points
MAG Ireland "No Con Test" Demo – Latest Update 19th September:

Balbriggan meeting point IS CANCELLED as there is no MAG rep available to lead the group in. If you're coming from the North or North East, please make your way directly to the main assembly point at Wilton Terrace.

Other meet up points are confirmed as follows:
Longford – Texaco on the N5 at Longford Motors, Assembly from 9:45am, Departing 10:30am Sharp, aiming to be at Bikeworld for 12:15PM latest.
Dublin West – Bikeworld/Longmile Road, for people coming in from the West including the Longford run (11:15am on, Departing 12:15 approx. depending on Longford.)
Dublin South – Cornelscourt Shopping Center, for people coming in from the South – 11:15am on, Departing 11:45

View "No Con Test" Demo Meet Up Points in a larger map
As this demonstration is open to all motorcyclists, MAG members or not, participants take part at their own risk and are expected to exercise due caution to avoid risk to themselves or others on the day.
Conduct on the demo
We want to make an impression, a good impression. So to that end and for obvious and basic safety considerations for ourselves and all other road users, here's how the Demo will be run.
Once we start – get yourself settled into place in the first few hundred metres on the road. If you feel the need to overtake/change position to ride with your mates – do it then. CAREFULLY.
After that – hold position and keep to it.
As far as is safe – we ride two abreast/staggered formation, parade style.
As far as is safe to do so – we keep to ONE lane – neat, tidy. This makes our 'presence' on the road far more impressive, predictable and safer for all.
Unless directed by Gardai to do otherwise – we obey, to the letter, The Rules Of The Road. So, traffic lights, road markings and especially Pedestrian Crossings must be obeyed.
It will be a SLOW ride – The aim is to gain as much attention and visual impact as possible. So no hurry, we take our sweet time – practice your low speed skills (oh – and check your coolant level beforehand  if you've a liquid cooled Bike!!!)
While revving the Bike and honking the horn can  gain attention – outside the EU Commission offices is a good place, outside the Rotunda Hospital is NOT!
Please do not be tempted to play with the kill switch as the resulting noise can cause laundry problems for those of a nervous disposition!
On the day we ask that you please ensure you do your bit to show that a large group of riders can be responsible and perfectly safe – Let's make it a memorable demo for all the right reasons.
---


Thanks to John Lea of We Move Bikes who is providing breakdown recovery support on the day.
A Word from FEMA
This Saturday, September 22nd, thousands of powered two-wheeler (PTW) users in Europe will gather in multiple locations to protest the European Commission's proposal to harmonize periodical inspections of vehicles.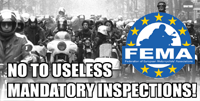 Current European regulations do not mandate periodical technical inspections for powered two-wheelers (motorcycles and scooters). This new proposal will impose more frequent tests, and will introduce mandatory roadworthiness tests in eleven European Union and EEA countries that do not currently impose testing of PTWs. It will also force shorter interval between tests for car users, and include trailers and caravans.
This proposal is the result of heavy lobbying by vehicle inspection corporations, including giants like DEKRA, TüV and AutoFORE, who expect a rise in profits. The cost of heightened testing frequencies for motorcyclists across Europe is estimated at €1.2 billion a year, with no benefits expected in terms of safety, as proven by several independent studies.
FEMA, the Federation of European Motorcyclists' Associations, denounces the measure as useless and expensive, and opposes the European harmonization of technical inspection schemes.
In France, protests will be held in major cities, including in Paris, in front of the European Parliament in Strasbourg, and at multiple DEKRA locations. Demonstrations are also planned in Finland, Ireland and other countries.
In Brussels, riders from Belgium, France and the Netherlands will converge at the Atomium to oppose the harmonisation of periodical technical inspections right at the door of the European institutions, starting at 11:00am.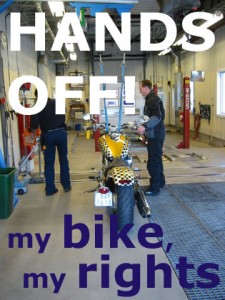 FEMA Member Organisations' Opinions on the EC proposal
SMOTO Finland

The Finnish motorcyclist association SMOTO is very concerned about the Commission's proposal which would introduce compulsory Road Worthiness Testing (RWT) for motorcycles in Finland … Read more

MAG Ireland

has consistently pointed out that common faults like wheel bearings or suspension bushings which cause cars to fail the NCT would render a motorcycle unrideable in any case. In addition, we've previously noted … Read more

BVDM Germany

BVDM is against the new proposal of the European Commission to reduce the frequency of Road Worthiness Testing from 2 years to annually. Motorcycles especially are kept in good condition … Read more

FFMC France

La Commission Européenne présente un projet de contrôle technique unifié. Concernant tous les véhicules, y compris les deux-roues de toutes cylindrées, encore plus fréquent que les CT actuels, …. Read more

MAG Netherlands

The Dutch riders' organisation MAG Netherlands rejects the proposal for mandatory Road Worthiness Tests (RTW) for motorcycles, which the European Commission published on 13th July 2012 … Read more

NMCU Norway

Norway is one of the countries within the European Economic Area (EEA) that does not have Road Worthiness Testing (RWT) for motorcycles. And the Norwegian Motorcyclists Union (NMCU) cannot identify any reason … Read more

SMC Sweden

In Sweden new motorcycles need to be inspected after four years, then every two years. In 2005, following thorough investigations, the Swedish government decided not to mandate roadworthiness tests for mopeds … Read more

 MAG Ireland will update this post with further Demo information as it becomes available.