The campaign against Periodic Technical Inspections (PTI) or "NCT for bikes" has taken another step with the announcement by FEMA of an acknowledgement of the riders petition submitted last year.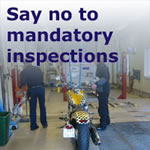 MAG Ireland collected over 700 signatures at the RDS bike show in March 2011, and hundreds more signed it subsequently. In the end, MAG Ireland contributed over 1,100 signatures to the total of 110,000 that were hand delivered to the EU Commission last October. You can read about that in our previous post at: https://www.magireland.org/2011/campaigns/pti/110000-signatures-against-pti/
Our stance on Periodic Technical Inspection remains that it's a hugely expensive way of fixing something that's not broken. Studies such as the Hurt Report and the MAIDS study show that mechanical failure is responsible for only a tiny percentage of motorcycle accidents. Even the RSA accepts that it's simply not an issue.
Worryingly, the recent IMCO committee vote on Type Approval left Article 18 suggesting that substantial modifications "shall be inspected and approved by the competent authorities in the Member States." In other words, by means of PTI style test for motorcycles, although lobbying on the Type Approval issue is ongoing at various levels.
FEMA Reported the acknowledgement of the petition as follows;
Riders at FEMAreceived an early Christmas present last year, from the hands of none other than Vice-President of the European Commission and Commissioner for Transport Siim Kallas. In an official letter, Mr. Kallas thanked FEMA for handing over 110,000 signatures of concerned riders opposing mandatory periodical technical inspections for motorcycles.With this correspondence the Commission acknowledges the handover that occured on October 14th in Brussels, when representatives of FEMA delivered batches of petitions at its head offices in the Berlaymont building. [Read the article here]

The petition campaign started in reaction to a public consultation held online from July to September 2010, where the European Commission asked citizens for their opinion on the extension of mandatory inspections to motorcycles. In countries where inspections are not mandatory for motorcycles riders immediately called their associations to react.

Mr. Kallas confirmed that his staff is still working on the revision of roadworthiness testing legislation. Mandatory yearly inspections for all two-wheelers could be a possibility at this stage, even though nothing has leaked about the Commission's intentions as of yet.The Commissioner also vowed to come back to FEMA to discuss the issue once a project is on the table. It's wait and see until then.
The letter received by FEMA can be seen here:
http://www.fema-online.eu/uploads/documents/consumer/20111130-PTI-Kallas-reply.pdf
The original article on the FEMA web site is here:
http://www.fema-online.eu/index.php?mact=News,cntnt01,detail,0&cntnt01articleid=274&cntnt01returnid=15
MAG Ireland will continue to monitor the situation with regard to Periodic Technical Inspections here at home, and through our colleagues in FEMA, at the EU level.