This coming Sunday, 15 November, is world day of remembrance for road traffic victims.  While huge advances have been made in recent years in reducing road casualties, this is a day on which we remember our friends who have gone before us and their families.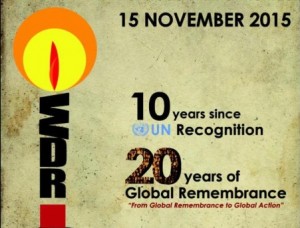 Speaking at a recent RSA event, Chief Superintendent Mark Curran of the Garda National Traffic Bureau said,
"This Sunday gives us all an opportunity to reflect on our behaviour on the roads. An Garda Síochána is committed to working with communities and organisations to make every effort to keep our roads free from tragedy, but our biggest enemy is complacency. What someone might perceive as a small risk could have catastrophic consequences for someone else, so we would urge everyone to look at their actions on the roads and make every effort to be a better, safer driver."
The following activities will mark 'World Day of Remembrance' around Ireland:
Cork: A mass will take place in Cork City in the Cathedral of St Mary and St Anne, Roman Street (Shandon) at 11.30am. It will be attended by personnel from the emergency services
Donegal: A special memorial service will take place in St Eunan's Cathedral, Letterkenny, Co. Donegal at 12 noon
Donegal: Road Traffic victims will be remembered at St Patrick's Church in Ballyshannon, Co. Donegal at 11am mass. If you would like to have a candle lit for a relative or friend please contact the parish office at 071-9851295. There will be a special blessing of the Emergency Services and cars will be blessed after all masses that weekend
Dublin: A special memorial service will take place in St Finian's Lutheran Church, 23 Adelaide Road, Ranelagh, Dublin 2 at 3:30pm
Galway: A special commemoration to remember all road traffic victims will take place in the Salthill Hotel, Galway at 2pm. As part of the ceremony you are invited to bring a framed photograph of your lost loved one. If you would like to participate on the day please contact Catherine by email cflaherty@rsa.i e or by phone 087-2027034
Kerry: A special memorial mass is taking place in St. Mary's Cathedral, New Street, Killarney at 12pm mid-day
Kerry: A special mass for road victims will take place at 9am in St Mary's Church, Listowel
Louth: A special memorial mass is taking place at 1.15pm in the Augustinian Church , Drogheda, Co. Louth
Mayo; A service will take place in Knock at 12 noon for road traffic victims and to honour the work of the emergency services. Download the poster here.
A walk of remembrance will take place in Achill at 3pm on Sunday the 15th of November. Meeting point Ted Lavelle's Filling Station, Cashel. All welcome
Tipperary: PARC Road Safety Group are organising a Special Ceremony to remember all those affected by road traffic collisions which will take place in the Presentation Secondary School, Clonmel, Tipperary at 2.30pm. Everyone welcome. Theme: Celebrating the lives of our lost loved ones. For further details please contact Susan Gray at 086-3773784. You can download'Finding Your Way', A guide for families of victims following the death or serious injury of a loved one in a road traffic collision.
Tipperary: There will be Rosary in The Garden of Remembrance, Ballynonty, Thurles, Co. Tipperary on Sunday 15th November at 3pm.
Westmeath: The Irish Road Victims Association (IRVA) are hosting a memorial service for Road Traffic Victims in the Bloomfield House Hotel, Mullingar at 2pm. We invite you to take a framed photo of your lost loved one with you. Please see here for a poster of the event.