If you're a learner rider you're required to wear a high visibility tabard with an L plate displayed front and rear. Once you pass your test, you may (if this is the first Irish test you passed) be required to wear a high visibility tabard with an N plate displayed front and rear for two years after you get your full license. While most riders were compliant with L tabard regulations, a minority were not.
On 8th December 2014 new penalty point offences were introduced which specifically targeted learners. The most significant changes are that a learner driver driving unaccompanied or not displaying L plates, or a motorcyclist not wearing an L or N tabard as required, have now become penalty point offences.
Failure to wear an L or N tabard now attracts 2 penalty points and a €60 fine with 28 days to pay, or 4 points if subsequently convicted in a court.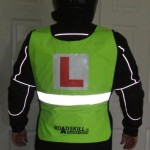 More importantly as a learner or novice rider you have a limit of 7 points and if you exceed that you will receive a six month disqualification. (This 7 points rule applies where a person was first issued with a learner permit on or after 1 August 2014).
The new points are intended specifically to target those learner or novice riders who refuse to wear an L or N tabard when required to do so. Sources within the motorcycling community suggest to us that awareness of these changes is not as widespread as it ought to be and we would remind riders to ensure they are compliant will all relevant laws while riding.
While the influence or otherwise of high visibility clothing on the observational abilities of drivers remains a subject of debate, the law on this matter is absolutely clear. If you are a learner or novice rider you must wear an appropriate tabard over your outer clothing with a red letter "L" or "N" as required on a white background not less than 15 centimeters high and clearly visible to the front and rear of the riders torso. You cannot cover it with a rucksack for example.
More information on the recent changes to the penalty points system can be found on the RSA web site at:
http://www.rsa.ie/Documents/Licensed%20Drivers/Penalty_Points_press_ad.pdf
Any queries in relation to the above changes should be addressed in the first instance to the Road Safety Authority by phone to 1890 41 61 41 or e-mail info@rsa.ie.
---
See also:
---