As part of Operation Artery, Gardaí from the Dublin Metropolitan Region traffic division, along with divisional traffic units around the city, set up a number of checkpoints across Dublin recently.
While the emphasis of the checkpoints was to target drink driving through the use of mandatory alcohol testing, along with detecting general road offences including use of seatbelts, vehicle lighting, insurance, etc. no less than 195 were issued with fixed penalty notices for using a mobile phone while driving.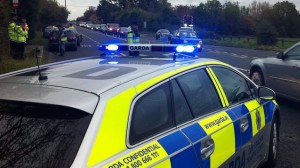 Assistant Commissioner John Twomey, Garda National Traffic Bureau said:
It is vital that all road users are aware of their surroundings, and have optimum reaction times – using a mobile phone while driving is a barrier to both of these. Every road user must be responsible for their behaviour on the road, and mobile phone usage is a serious barrier to safe driving.
MAG Ireland recently launched our awareness campaign on the distracted driving issue and welcomes any initiative to help clamp down on the use of mobiles by drivers, the single most significant factor in distracted driving on Irish roads.
As part of our campaign, MAG Ireland representatives will be attending an upcoming international conference on distracted driving to be hosted by the RSA in Dublin in March. We'll be emphasising the unique hazards faced by riders as a result of mobile phone use by drivers. The conference itself will focus on the impacts of driver distraction, exploring the challenges presented by new technologies and ways to mitigate driver distraction.
Too many riders have been hurt, or worse, by the inattention of drivers focussed on their phones. Over 3,000 drivers a month are now being issued with points for this offence. Our message to drivers is a simple one.
Put the Phone Down
Look Twice
Save a Life!