MAG Ireland recently took part in a mobility study organised by FEMA, the Federation of European Motorcyclists' Associations, which is designed to collate and compare transport data from a number of European cities.
The objective is to travel from a point in the suburbs to the city centre using various different modes of transport and compare the results. Although timed, it is not a race, rather an opportunity to examine the challenges and opportunities presented by each mode. For the event we used motorcycles, a bicycle, a car and public transport.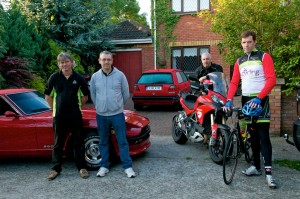 MAG Ireland was delighted to have the capable assistance of Bike Buyers Guide who sent along associate editor Paul Browne & photographer Cormac Ryan Meehan. The magazine is running a feature article on the event in the November 2014 issue, so keep an eye out for that one.
The cycling fraternity was expertly represented by Geoff Liffey, CEO of Cycling Ireland and a veteran commuter cyclist who knows every inch of the route.
The format calls for a typical morning commuter journey. We chose a suburban housing estate in Lexlip with good public transport links as our starting point, and Merrion Square, Dublin 2 as our city centre destination. The total distance is a little over nineteen kilometers.
As you might expect, the motorcycles completed the journey in the shortest time, taking about half an hour with the bicycle following closely behind at forty minutes. We suspect that the push bike would have the edge on a shorter inner city commute due to it's ability to exploit even the narrowest of gaps in city traffic.
Public transport was next to arrive, taking just over an hour and finally the car which took an hour and a quarter on the day – longer than in any other EU city tested.
MAG Ireland would like to express our sincere thanks to Bike Buyers Guide and Cycling Ireland for their participation. The results have been passed on to FEMA and will be used to gain an insight into the particular challenges faced by commuters across a range of European cities.
Links:
FEMA – www.fema-online.eu
Bike Buyers Guide – www.bikebuyersguide.ie
Cycling Ireland – www.cyclingireland.ie