We're delighted to announce that BikeSafe will be launching at 10am on Saturday, 22nd February next at Drogheda Garda Station.
Last November we reported that Sergeant Nigel O'Neill, Ardee Garda Station, was seeking expressions of interest from riders with a view to establishing a BikeSafe initiative in the North East region.
Now, thanks to your enthusiastic response, there is sufficient interest to run the project in 2014 covering both the East and North East regions.
BikeSafe is a free motorcycle safety project run on purely voluntary basis by individual members of An Garda Síochána who give freely of their time and expertise for the benefit of all riders. The aim is to reduce the number of riders being hurt on the roads.
The BikeSafe approach consists of two main elements.
Firstly, an informal discussion session explores the main issues facing today's rider followed by a short safety briefing before the on-road element in which the rider is observed and assessed by a Garda motorcyclist.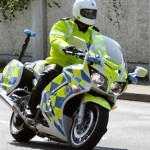 Once on the road, the rider will ride a pre-determined course which includes both urban and rural settings using both primary and secondary roads. The fundamentals of advanced riding are introduced through the on-road element following which the Garda observer will provide an assessment and feedback to highlight areas where the rider can improve their skills.
On completion the participant will be presented with a grade and information on how and where to further their skills and hazard awareness, hopefully making their riding safer and more enjoyable.
MAG Ireland wholly endorses the efforts on An Garda Síochána and we we actively encourage and promote post test rider training as the only proven way to reduce motorcyclist casualties.
BikeSafe is an ideal introduction to the art of advanced riding, and an incredibly useful benchmark from which to learn and develop your skills on, and enjoyment of,  two wheels. We'll be reporting on the launch in due course.
If you're interested in taking part in BikeSafe, please e-mail louthbikesafe@gmail.com with your name and contact details.