If you've been following developments in MAG Ireland over the past couple of years, you'll have seen some significant changes including a re-brand, new social media presence, a change of address and most recently the launch of our smartphone app designed specifically for the Irish motorcycle community.

Now MAG Ireland is looking for an experienced web developer to help us take the organisation to the next level.
As with all roles in MAG Ireland, this one is voluntary, and the right person will be joining a growing team in a rapidly evolving organisation with a national presence and a recognised brand.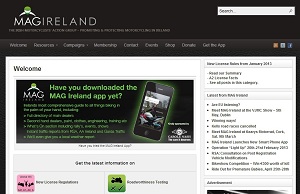 Our web site is our primary communications tool, a one stop shop where members and non members alike can access factual information directly relevant to Irish riders. We're kicking off a number of new initiatives this year to help grow and develop MAG Ireland and we need a web developer to join our existing IT team and help us develop the MAG Ireland web site in line with the growing needs of the organisation.
A full job brief is provided below, so if you think this opening is right up your street, why not apply?
Alternatively, if you know someone looking for an opportunity to develop their skills in this area, please forward on the job brief below.
Note: Closing date for applications is Friday 12th April next.