This year the much anticipated Ride out for Prems Annual event will take place over four days from the 25th April to Sunday 28th April. Mondello Park, Mattie Griffin – BMW Irish Stunt Rider, Naomi Cullen, and the Peter Mark Group have all pledged their support and are involved in the trip.

Some of our Neo-Natal Intensive Care Units and Special Care Baby Units in Ireland have problems with vital life saving equipment either being out dated or in some cases absent from the units &where staff are amazing and work under very stressful conditions.
By doing "Ride out" Irish Premature Babies aim is to raise awareness, funds and purchase equipment. The concept of transporting the vital life saving equipment and donating the items to the units, while the trip is a unique idea, it's also a rare opportunity to see exactly how and where peoples fundraising efforts can make a huge difference. On their visit participants will also get to meet the parents and medical staff that they are helping. The fact that they guys met with families and got to see tiny babies fighting to stay alive proved very thought provoking as we were inundated with questions at night about the equipment donated to the units that day.
With a total of 28 motor bikes having done it this year, 2013 will be the third year of the trip and we are aiming for at least 50 bikers. Female bikers also did the motorbike challenge this year and we aim to increase this ratio as well for next year.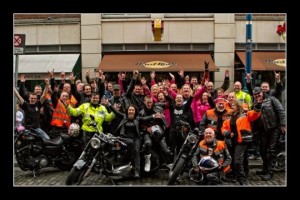 Every rider has to raise €1,000.00 to come on this trip which is a huge commitment by these people to help out, many of whom had no ties to prematurity or the charity. We also have a documentary being made on the trip, which will hopefully be a huge bonus to the charity and sponsors alike.
Every year in Ireland, 500 babies die as they are born too early, out of the other 4,000 premature babies some with have long term complications and many will do really well with the support and help many of the intervention therapies This leads to a lot of families who need help in some way whether it is psychological/emotional support, financial support or even accommodation as there is a high rate of transfer for premature babies to city hospital which could be for a lengthy period of time.
To find out more information about the charity please contact myself or look at our website www.irishprematurebabies.com.
We are setting up a website specifically for Ride out for Prems at  www.rideoutforprems.com 
You'll also find us on facebook at http://www.facebook.com/pages/irish-premature-babies/246233458273 or follow us on twitter: @irishprems
Kindest regards,
Irene Dowling

086 108 2545

irene.dowling@irishprematurebabies.com