Hi All, we can't believe that 2013 is nearly gone, we're into October already and we've just had our AGM. We have had one hell of a busy year so far and we're not finished yet.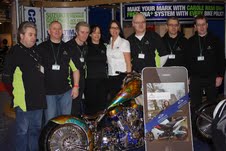 The year started with the Bike show at the RDS and the launch of the first dedicated smart phone app for bikers by us and a huge recruitment drive, so it was all hands to the pump for the first weekend in March. If you happened to be there and you dropped by to say hi you would have seen that we were run off our feet.
As rally reps our primary goal is to get to as many rally's as we can to spread the word about MAG Ireland and answer any questions you rally goers might have for us. Unfortunately for the month of March both of our bikes were off the road and so we didn't get going until April.
In March we were represented by our P.R.O. Victor at the Shamrock Rose MCC . This was their first rally and bike show, and Victor tells us it was a great night at the rugby club in Glanmire, Co. Cork. We hope your rally goes from strength to strength.
April saw Animal and myself head to the Clan Na Gael's Rally in Summerhill, Co. Meath, for another outstanding rally. There had been a little rain on the Saturday night but dry on the Sunday morning which meant a lot of fun getting the few bikes that hadn't used the hard surface to park on out of the field. Special mention must go to Larry from the Weasels MCC for covering me in mud as we helped him out get his bike out of the mire.
May saw another new rally on the scene, organised by the ever popular Weasels MCC, and this was all pulled together in just two weeks!. I have to say they found an excellent site for a small friendly rally, and hats off to them for this excellently run event in Drumcree, Co. Westmeath. This is one we will definitely be back to next year.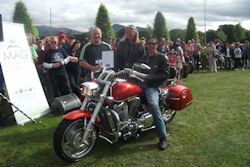 The end of May/beginning of June saw us off to Bike Fest in Killarney. This was my first trip down to Killarney and I have to say the event itself was fantastically run, with great ride outs, great bands and lots to see. Waterford Harley Davidson and Killarney Bike Fest team along with all the other sponsors put on a great weekend. Now the weather played its part as well, which seemed to be the start of a great summer of sunshine which has stayed with us well into Autumn.
MAG Ireland was invited to co-sponsor the prizes at Bike Fest which we were very happy to do, and so armed with our fifteen prizes for the winners at the bike show Victor, Antoinette and myself headed down and we had a fantastic time. This is another one I'll be putting in my diary for next year.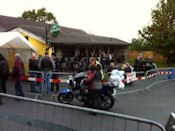 June also saw me heading down to the Balor Demons MCC's 3rd Hole in the Road  Rally, near Carlow. This is a very well run rally on a great site and it was just a shame I couldn't stay the night to enjoy the hospitality of the Balor Demons to the full. Hopefully we can next year!
July saw MAG Ireland holding our first rally in over ten years. We named it the "On The Road Rally", the reason being that we plan to take the rally to a new County each time. This year saw us visit Kilcogy, Co. Cavan.
We had some friends came over from MAG UK as well as MAG Northern Ireland coming down to help us celebrate our first rally in more than a decade. Animal had some silly games arranged for the Saturday afternoon and we had two great bands playing. The Hard Rockin' Hobos played the Friday night, while Audio Circus played on Saturday night with our D.J. Peter from the board of MAG Ireland doing his thing to keep the music going from Friday to Sunday.
Results:

Long Distance Male
Hugh Shalvey 174 km
Long Distance Female
Ursula (islanders MCC) 72 km
Long Distance Overseas Male
Andy Frost  (MAG Derby)
Long Distance Overseas Female
Anna Jones (MAG Matlock)
Biggest Club Turnout
Highciders MCC

Now all that remains is for us to decide what county we go to next time, any ideas?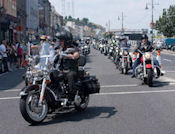 The middle of July brought Waterford Bike Fest and the Boobs and Balls charity ride from Co. Kildare down to Waterford, once again fantastically organised by Waterford Harley Davidson and the Freewheelers M.C. The charity ride itself was well run by the Celtic Thunder HOG Chapter. Once down in Waterford there was quite a carnival feel about the place with live music in the streets and lots of stands catering for all the family, this is definitely a great family occasion.
The end of July saw us heading to our usual rally at Poulaphouca House, Co. Kildare for the Druids MCC. This is always a great weekend and this year was no exception, great bands plenty of stalls and the usual friendly welcome from the Druids MCC. This is a rally we never miss and the Druids are always great supporters of MAG Ireland.
We would like to thank everyone who has made us so welcome this year at the rallies and the festivals and we look forward to receiving invites to next years events. If anyone else wants to help us get around to as many rallies as we can then we would be delighted with the help, the only thing you need to remember is we all have to pay for these trips out of our own pockets.
So see you all at a rally soon.
MAG Ireland Rally Reps
Animal & Graeme