The RIDERSCAN project – scanning tour for motorcycle safety – has just launched its public phase. The project, led by FEMA, is designed to address motorcycle safety issues by collecting information which will, for the first time, allow comparison of situations, fleets, populations and policies between countries and regions across Europe.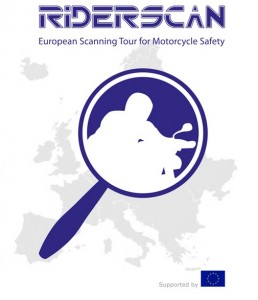 Initiated in November 2011, the RIDERSCAN project will run until 2013, delivering its results in the form of a constantly updated knowledge database for road safety professionals in Europe and across the world. Your views as a rider are welcome, and there are two key ways in which you can contribute:
An online survey which should take approx 20 minutes of your time  – click here to launch.
A call for contributions whereby you can submit your views (or contribute documentation) on motorcycle safety issues to the project team – click here for details.
If you'd prefer to know a bit more about the project before taking part, read on!
RIDERSCAN Project Partners
Project Coordinator: FEMA – www.fema-online.eu – FEMA (of which MAG Ireland is a founding member), is the European federation of national road rider organisations. FEMA represents, defends and promotes motorcycling and the interests of millions of riders across Europe. With 23 national organisations in 17 countries, FEMA is the riders voice at the heart of Europe.

The EU Commission, via the 7th Framework Programme for Research. Framework Programmes are the European Union's main instrument for research funding in Europe and collate all research-related EU initiatives together under a common framework.
Mutuelle des Motards – www.amdm.fr – The Motorcyclists' Mutual Insurance company, founded in 1983, was set up as a reaction to a hike in insurance prices and remains to this day the only mutual insurance company for motorcyclists in France.
ACEM – www.acem.eu – ACEM stands for Association des Constructeurs européens de Motocycles, or the Motorcycle Industry in Europe. It is the professional body representing the interests of thirteen motorcycle manufacturers.
The specific goals of the project are set out in the following table based on the eight identified headings in the first column.
Safety issue
Deliverables
Training, testing and licensing
Report on existing schemes, problems encountered, good practices, 3rd Driving Licence Directive implementation, recommendations for 4th Driving Licence Directive
Data collection and statistics
Report on available and missing data, proposals for harmonization of data collection related to motorcycling
Infrastructure
Report on problems, existing solutions and standardization needs
Recommendations for the development of a European road safety assessment programme for motorcycling
Accident reporting
Report on accident reporting methods, recommendations for harmonization of police reporting
Research
Overview of national and EU research on motorcycle safety, identification of duplication and gaps related to the 8 safety areas
Traffic management
Report on existing and best practices
National strategies
Overview and analysis of existing national strategies in Member States, implementation and results, recommendations
Recommendations for the development of a European Motorcycle Safety Performance Index
Motorcycling Community
Report on motorcycling use and safety characteristics, the motorcycling population and means to reach it
For a more in depth overview, see this PDF:
http://www.fema-online.eu/riderscan/IMG/pdf/riderscan_project_presentation.pdf
---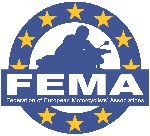 The following is the FEMA Press Release relating to the launch:
The Federation of European Motorcyclists' Associations
Oct 2, 2012
RIDERSCAN project officially launched at the European Motorcyclists' Forum
==PRESS RELEASE==
The European Motorcyclists' Forum on October 3rd at INTERMOT in Cologne, Germany, hosts the launch of the public activities of RIDERSCAN, the European motorcycle safety scanning tour.
The RIDERSCAN project is co-funded by the European Union, gathering existing data on motorcycle safety in order to identify missing knowledge and information and provide guidance to road authorities. It brings together all road safety stakeholders involved in motorcycle safety to create a knowledge network, enhancing communication and fostering better cooperation among partners.
The launch of the project during the European Motorcyclists Forum at INTERMOT offers a unique opportunity to reach the various members of the motorcycling community: industry, users, and the press.
Unveiled activities feature:
An open Call for Contributions – www.riderscan.eu/contribute – allows anyone with an interest in motorcycle safety to submit relevant information, success stories, data and other achievements. All information submitted will be carefully considered by the project team.
A pan-European Survey – www.fema-online.eu/riderscan-survey – aims at mapping the motorcycle community across Europe. This six-month survey will be launched in English, and will soon expand to include most European languages by December 2012. Country-by-country support campaigns in partnership with the major motorcycle media will enlarge the scope of respondents. Moto Magazine (France), MC-Folket (Sweden), and Motorrad (Germany), partners of the RIDERSCAN project, will provide support campaigns for the survey.
Aline Delhaye, RIDERSCAN project coordinator and General Secretary of the Federation of European Motorcyclists' Associations (FEMA), highlights: "There is no better place to launch the RIDERSCAN project than the European Motorcyclists' Forum. Following the IfZ conference at INTERMOT, all important stakeholders gather the first week of October in Cologne. Everybody who is interested in motorcycle safety can easily join the event."
END
Note to editors:
–          The RIDERSCAN project: www.riderscan.eu
–          Contribute to the RIDERSCAN initiative: www.riderscan.eu/contribute
–          Answer the RIDERSCAN survey www.fema-online.eu/riderscan-survey
–          The European Motorcyclists' Forum: www.europeanmotorcyclistsforum.eu
–          The Federation of European Motorcyclists' Associations (FEMA) : www.fema-online.eu

As a founder member of FEMA, MAG Ireland encourages Irish riders to participate in the RIDERSCAN project because we believe in evidence led policy based on sound publicly available evidence, and not in proposals like mandatory high visibility clothing or an NCT-style test, which are based on opinion rather than hard evidence of necessity.