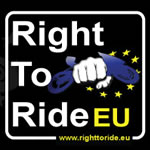 Some interesting news about the controversial EU proposals comes our way via our friends in Northern Ireland's Right to Ride.
Right To Ride's Dr. Elaine Hardy was in Brussels on Tuesday the 22nd November 2011 for meetings concerning EU type approval regulations for motorcycles.
At the same time that bikers taking part in the MCN organised demo gathered outside the EU office buildings nearby, Elaine met with a number of people inside including IMCO committee chair Malcolm Harbour MEP.
Following on from these meetings Right to Ride has published a summary of the situation on their web site including clarifications on;
ABS
Anti-tamper
Customising
Article 18
Given that thousands of riders here took part in the September 25th demonstrations, we think it's essential reading and we in MAG Ireland extend our thanks to all at Right to Ride for their efforts in cutting through the legalistic language of the EU proposals and getting to the facts behind the hype.
Read the full story on the Right to Ride web site at:
http://www.righttoride.eu/?p=8559
Download the Right to Ride meeting report (PDF, 238 Kb) at:
http://www.righttoride.eu/regulationdocuments/istheskyfallingin241111.pdf