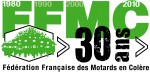 French riders led by the FFMC (the national riders rights organisation in France) staged one of the largest demonstrations yet seen in Europe on the 18th June. Tens of thousands of riders turned out in cities and towns across France, and in conjunction with other motoring organisations the road going French public told their government in no uncertain terms what they thought of the proposals which included some draconian measures.
Over the summer, the political situation got hotter and the head of the French Road Safety Authority was sacked. The French government is now scrambling to deal with the fallout and French riders are ratcheting up the pressure with another mass demonstration scheduled for September 10th.
MAG Ireland, through our membership of FEMA (The Federation of European Motorcyclists' Associations), have been able to discuss the various issues with the FFMC.
For example, the compulsory high visibility clothing proposal is not an EU proposal. Only the Irish & French road safety authorities want it!  The threat is that if it becomes law, either here or in France, the EU will then pick it up and make it mandatory across Europe. Thanks to FEMA, we're able to coordinate our efforts at EU level to defend riders rights. We in MAG Ireland wish the FFMC every success with their campaign.
Read the full story on the FEMA web site here: http://www.fema-online.eu/index.php?mact=News,cntnt01,detail,0&cntnt01articleid=236&cntnt01returnid=15
The FFMC web site (in French) is here: http://www.ffmc.asso.fr/
For Google translated version, click here.
Irish riders will be participating in a weekend of protest on 24th & 25th September. The official MAG Ireland "Think Bike" demo will take palce on Saturday 24th (see here) while various individuals, clubs and bike forums are having their own protest rides around the country on Sunday 25th (see here).
Update, 16th September 2011: There's a write up on the demo with photos here;
http://ukfrancebikers.com/2011/09/11/france-a-tsunami-of-angry-bikers-cause-chaos-again/