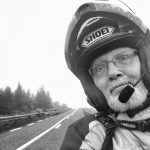 Contributed by Pat Whelan, The trouble with Trikes is another in our series of occasional features. Pat spent most of his career in the motor industry and has served on the MAG Ireland executive for a number of years. He's currently our industry liaison and keeps tabs on issues including insurance, type approval and vehicle standards.
In researching this article, Pat spent several months talking to riders, dealers and people in the industry, as well as insurers and legislators. This is his take on the situation today. An edited version of this article originally appeared in the December 2016 issue of Bike Buyers Guide.
---
Author: Pat Whelan/MAG Ireland
The subject of trikes has been something of a hot potato over the past year or so with several owners reporting difficulty with licensing, insurance or both. One insurance industry executive recently told MAG Ireland the situation was "troubling" and noted that underwriters were shying away from "non-standard" risks, while another told of an engineer's report describing one particular machine as a "cut and shut" and "basically uninsurable".
The most common issue for riders new to trikes is licensing. The bottom line is this:
If you obtained your full car license prior to 19th January 2013 you have an entitlement to ride a trike. On or after that date you need a full motorcycle license in the relevant category.
It's worth noting that this requirement applies whether the two wheels are at the front or the back, so something like a Can Am Spyder or a Morgan will require a bike license for anyone undergoing a test after January 2013.

There are five broad categories of trike in the marketplace;
The first are manufacturer's own factory built trikes with two wheels at the rear like the Harley Davidson Tri Glide Ultra.
The second category are motorcycles with twin front wheels like the Piaggio MP3.
The third category are bike based trikes, typically a standard motorcycle modified with a kit to provide two rear wheels. Honda Goldwings and various Harley models frequently feature as the donor bike.
The fourth category is broadly defined as car based trikes with a motorcycle front end. These are manufactured by the likes of Boom and EML and would be familiar to anyone who watched Billy Connolly's Britain and Ireland tour a few years back.
The fifth and final category are the car-type three wheelers with two wheels to the front, notably the Morgan and Can Am Spyder mentioned above.
The common thread in all the above categories is rear wheel drive and there is a degree of uniformity in the approach insurers take when it comes to trikes which more or less follows the categories outlined above. By far the easiest to get cover for are the manufacturer's own factory built trikes because they have provenance and are built to the same standard as the motorcycles.
It's not all plain sailing though. Trikes based on modified bikes may face restrictions like third party only cover for example while complications can arise if the paperwork is not 100%.
If it's a locally built conversion you must have a Motor Engineer's report certifying that it is a trike and fit for the road, with photos from the front, back and both sides. The quality of the build is very important. Insurance costs are similar to the factory builds, but may be restricted to third party cover in some cases.
MAG Ireland members tell us that riders who have existing trike policies in place generally find renewal is not a problem. Pricing is broadly in line with an equivalent solo motorcycle and at least two of the Irish insurers offer cover to trike riders.
My research showed that vehicles which require engineer's reports can take longer to get insurance cover on because they may be referred to the underwriters for a one-off vehicle quote which in turn may also attract an increased premium.
It is also important that you use an engineer who has experience in assessing trikes. Road regulations for bikes are not the same as cars. Make sure you have all the information to hand when you contact your insurance provider.
That includes engine make, capacity, and power output as well as the type of drivetrain, what sort of gearbox is used, whether it's automatic or manual, and the details of any security/anti-theft systems fitted.
All of that is on top of the regular stuff like where you live, whether the machine is garaged or not, how many miles you do, how long you've held your license, penalty points and so on. You absolutely need to do your homework here.
Motorcycling today is a niche activity, and trikes are themselves a niche within a niche. Their appeal may be limited but to the enthusiast they are the best of both worlds and for those limited by injury or disability they may be the only link with conventional motorcycling that remains open to them.
The most important bit of advice I can offer based on my research is this:
Don't buy or build a trike for road use without first checking whether you can get it insured.
Through my involvement with MAG Ireland I'm aware that a number of riders have fallen foul of this basic check and found themselves in possession of machines for which they could not get cover to ride on public roads. Trikes are still a viable option provided you do your homework in advance to make sure that all the i's are dotted and the t's crossed.
Trikes are some of the rarest machines on public roads, so it's hardly surprising that licensing and especially insurance can be a little difficult to come to grips with. If you're new to the scene, talk to people who own and run trikes. Every owner I talked to was happy to share their experience and advice. Make sure you have the right license and check with insurers before you buy or build for road use. Provided you go about it properly you can get a trike on the road with the minimum hassle and expense. It's not exactly easy, but then nothing worthwhile ever is.