MAG Ireland has been asked to post the following information in relation to a protest ride by a group called "United Bikers of Ireland" due to take place on Saturday, October 29th 2011.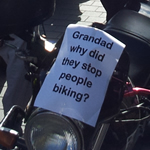 Participants are protesting the proposed EU regulations surrounding type approval. The protest has been organised by a group of individuals acting under the title of United Bikers of Ireland. MAG Ireland has recently met with two members of this group who requested that we publicise this event. Starting places and times are as follows;
Wexford Mother Hubbards carpark 9.30am
Enniscorthy The Prom 10.00 am
Ferns The square 10.30am
Gorey Tescos carpark 11.00am
Arklow Bridgewater shopping center 11.30am
The Beehive carpark 12.00 pm
Runs will meet up at Newlands Cross, Naas side of the Green Isle hotel to leave at 1:30pm.
The destination is Dail Eireann, Kildare St., Dublin, for 2.30 pm where Mr Paul Murphy MEP will be speaking. All are welcome. Petitions will be handed to TD's who've agreed to be there to receive them.
All queries must be directed to the organisers. For more information see this Facebook page:
http://www.facebook.com/event.php?eid=170417146377776

Latest Info: United Bikers web site set up with information on this protest: http://www.unitedbikersofireland.com
Update, 28th October: MAG has received the following additional information;
Can all Dublin bikers ( or those not on a different route into the City) meet at Joels Restaurant/Essso Petrol station just after Newlands Cross on the N7 towards Dublin .
There is a handy side bus lane that is off the main road which will provide ample parking.
If coming off the Red Cow roundabout, head for Kildare on the N7 and at the first set of lights ( Newlands Cross) do a U-turn back towards the Esso petrol station)
Our Marshals will be there to explain further details and have petitions signed.
The Dublin run will be departing from that point at 1pm sharp with Garda escort. We will be joining up with the Kildare/Portlaoise run .
This run will then meet up at the main staging point at the next location towards Dublin with all the other runs , and all the runs will then ride together to the Dail under Garda and marshall escort.
Actual route into the city is still with the Gardai ( depends on roadworks after the recent flooding) , so the best place to meet will be Joels/Newlands Cross.

Thanks"
Update, 27th October: MAG has been sent the following additional information;
Route Plan for United Bikers of Ireland demonstration road trip to Government Buildings, Saturday 29th October 2011.
Clare/Limerick/Cork to Portlaoise an on to Newlands Cross
Clare run is leaving Ennis at 9.30 sharp from West County Hotel on the motorway to Limerick. There is a run coming from Buttavent in Cork leaving outside the Co.Op at 9.30am. Meeting with Clare run just passed the Cork exit at around 10.15 then both continue to Portlaoise. The run will leave Portlaoise from the Mid Way Food Court (Exit 17 on M7) at 12pm sharp.
Kildare
Bikes will meet at Toughers Services Junction 10 off N7 (follow the signs from Junction 10). Bikes will assemble at 11:30am and will depart at 12 noon to merge with Portlaoise road trip.
Donegal-Monaghan
Leaving Lifford Co Donegal at 9.00am. To meet with Monaghan protest at Topaz filling station on the Derry Rd at 10.am leaving there at 10.30am to follow on to the M1. Anyone traveling from the North down the M1, or anyone from Louth who wants to meet up with us take the Junction 14 of the M1 at11.30am. Will meet you just off the junction below the runabout.
Waterford
The run will depart from Waterford Harley Davidson, Ozier Park, Waterford at 11am sharp and will commence along the M9 motorway. Motorcyclists can join in en route however for safety reasons you will need to join the convoy at the back and you will need to observe the instructions from the Celtic Thunder H.O.G road captains at all times. We will stop at Crookstown Service Station (Exit 3, M9) at 12 noon for refuel and refreshments and to pick up local bikers. We will re-commence at 12:30pm to reach Newlands Cross for 1pm.
Wexford
Departing Mother Hubbard's at 9:30am and heading directly to Dublin via Enniscorthy (The Prom at 10am), Ferns (The Square at 10:30am), Gorey (Tesco car park at 11am), Arklow (Bridgewater Shopping Centre at 11:30am), Wicklow (The Beehive at 12 noon( and from here will head directly to Newlands Cross to meet with convoy from all over Ireland.
Galway-Athlone-Dublin
The run will depart from Kilmartins N6 service station in Athlone at 11am sharp. Gathering will commence at 10:15am. Route will be from Kilmartins N6 to Kinnegad via the M6 then to Lucan via M4 (Have the correct coinage ready for the toll) then at Lucan taking the slip road, across the fly over onto the R120 to Newcastle via Finnstown all the way to Rathcoole slip road to the meeting point at Newlands cross. In the interest of safety only Marshals will be wearing Hi-Vis.
Cork- Clare- Limerick
Cork Clare Limerick run meeting another group in Nenagh @ 11 am on the by pass around Nenagh if anyone wants to join.
All five runs will meet together before Newlands Cross at an appointed space before leaving there at 1.30pm going to Dail Eireann for 2.30pm.
Disclaimer: While MAG Ireland is happy to support this demonstration, please note that this is not a MAG Ireland organised demo, and we are posting this information purely for the benefit of anyone who might want to take part. Please contact the organisers directly with any queries.

For more information on the EU proposals see the following MAG Ireland links;
https://www.magireland.org/2011/slider/write-to-your-mep/
https://www.magireland.org/2011/eu-fema/fema-mep-interview/
https://www.magireland.org/2011/campaigns/rsa-on-type-approval-high-viz/
---
Not a MAG Ireland member? Why not show your support?
Donate to MAG Ireland – Purchase MAG merchandise – Become a MAG Ireland Member

---